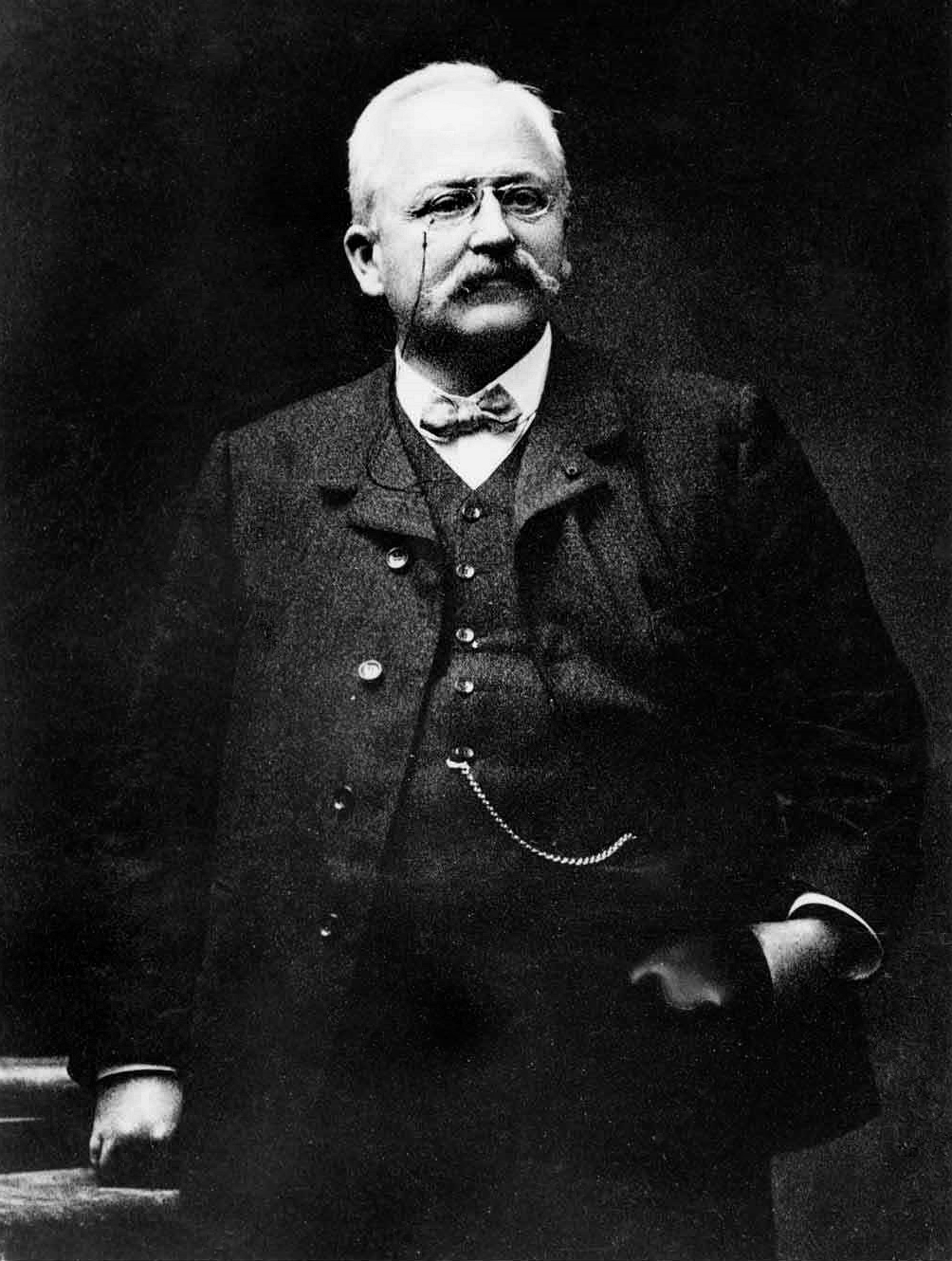 Peugeot along with Panhard & Levassor was a pioneer of the French automotive industry.
James Laux ("In the first gear", 1976) wrote, "The country of the Peugeots is the Montbeliard region in the Burgundy gate between the Jura and Vosges mountains just south of Belfort, and hugging the north-western Swiss frontier. By the later 1880s there were two major Peugeot metalworking concerns: the smaller one, which took the name Peugeot Aînés et Cie in 1889, operated at Pont on the Doubs River where it employed some 600 men making various hand tools; the other, larger and more dynamic, was the Societe Peugeot Freres. It became Les Fils de Peugeot Freres later on in 1892. In 1889 this company kept about 2000 workers busy in three factories, at Terre Blanche on the Allan River and at Valentigney and Beaulieu on the Doubs. From the mid 1870's Peugeot Freres produced, a great variety of tools for farmers, craftsmen, and housewives, from pitchforks and saws to hair clippers and coffee mils. Two cousins, Eugene, born 1844, and Armand, born 1849, managed the company.
Although through the years, the family had frequently demonstrated initiative by adding more products to its line, its general attitude was one of caution, of going slowly when presented with an opportunity where a large market was not immediately apparent and a big investment was required. But Armand Peugeot had a bolder spirit than the rest of the family. In the early 1880's Armand Peugeot began investigating the possibilities of bicycle manufacturing. When the safety bicycle appeared, with wheels of the same size and a chain drive, he adopted it immediately in 1896, and almost overnight the Peugeot company became a leader in this industry in France.
In 1888 French steam car inventor Leon Serpollet came to the attention of Armand Peugeot. He decided to make some of Serpollet's tricycles. Armand had his engineer Rigoulot redesign the frame to make it more sturdy, using Serpollet's boiler, along with steam engines made by the La Buire company of Lyon. Four of these steam tricycles actually were built in 1889, the first Peugeot cars. Heavy, expensive, and overly complicated, they were not successful.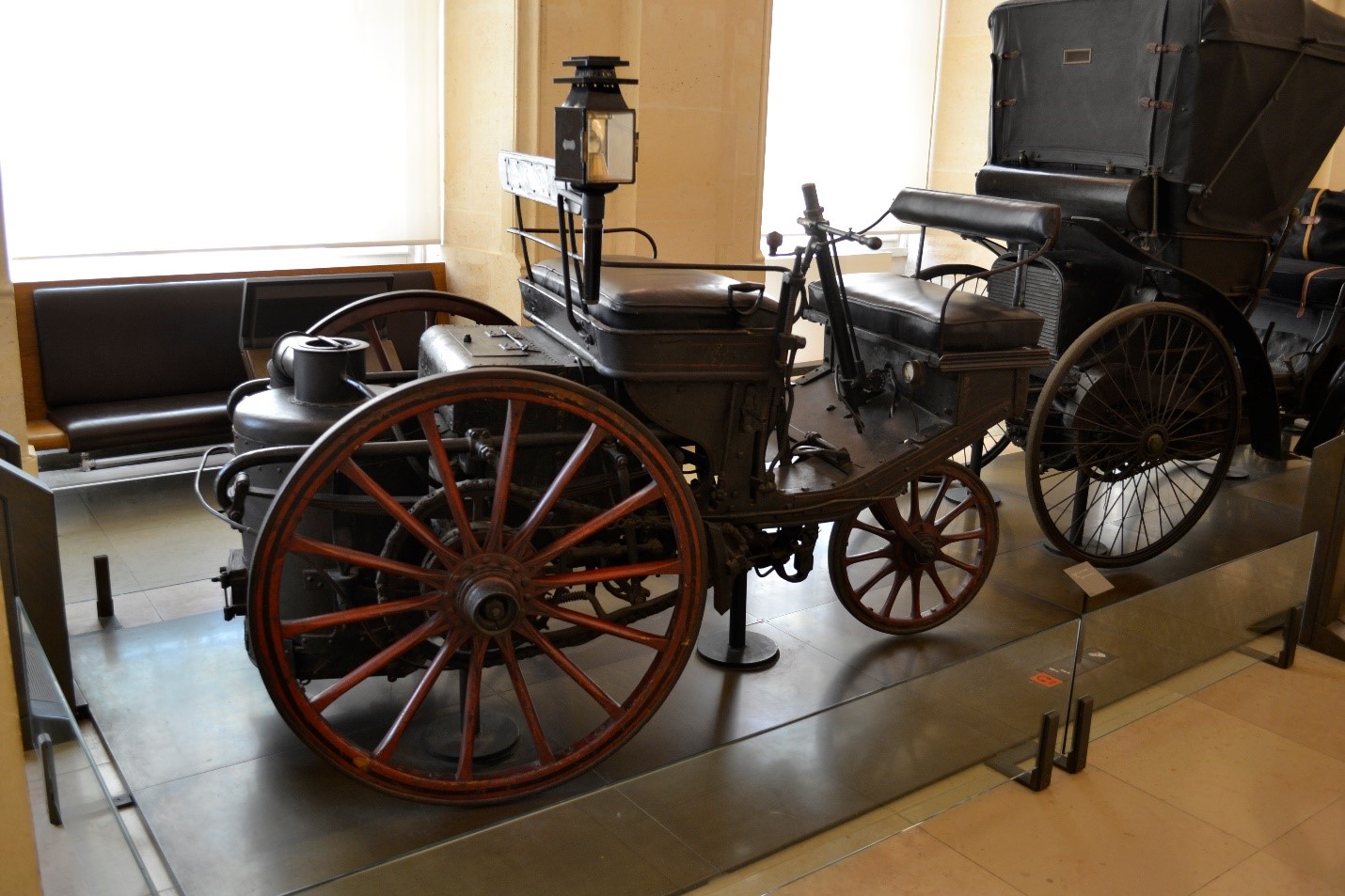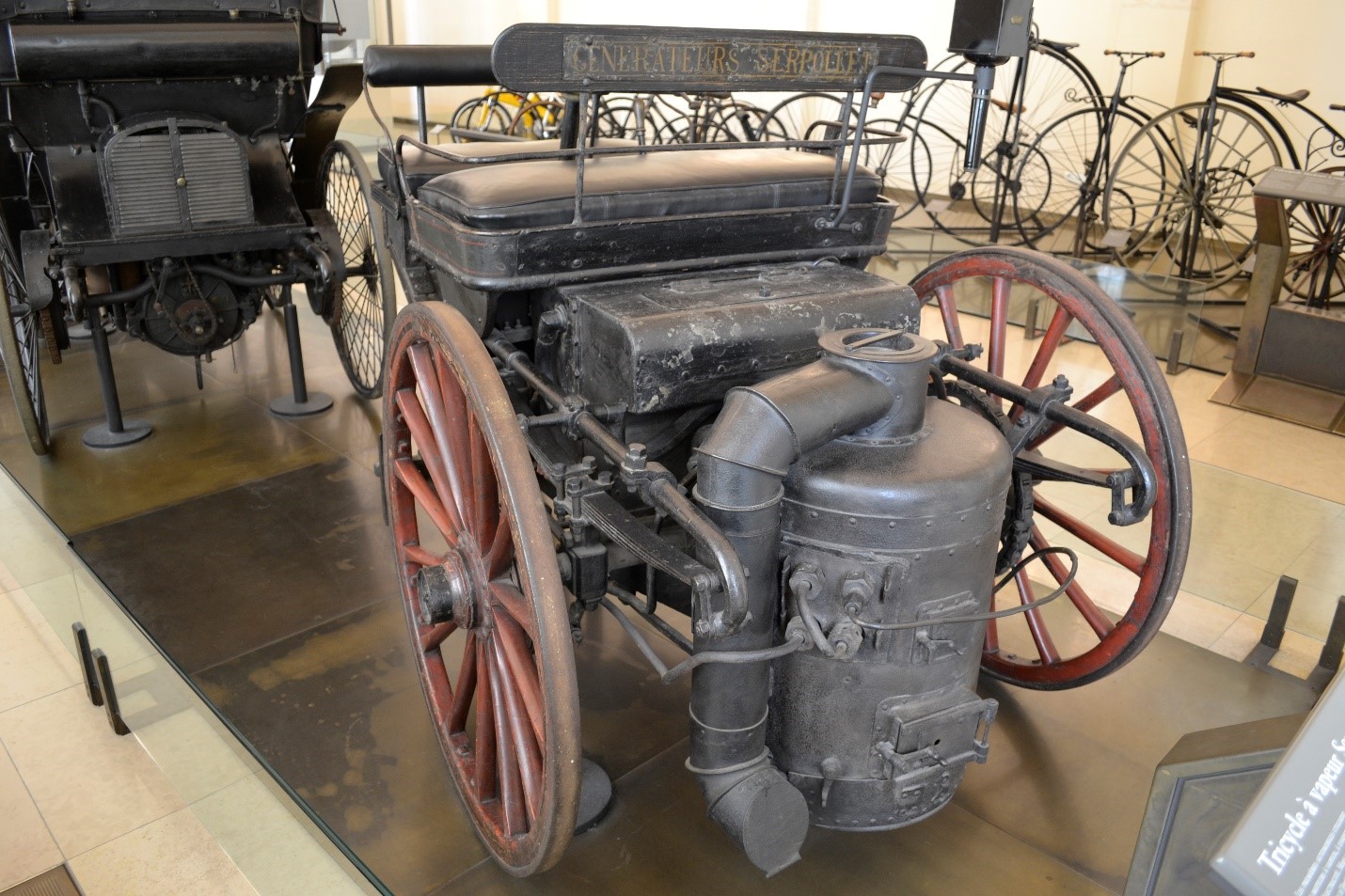 Emile Levassor knew Armand Peugeot as a business acquaintance. Panhard & Levassor bought some equipment from Peugeot Freres. Chances are Levassor knew that Peugeot was interested in mechanically powered transport. In November, 1888, in order to get a business partner who could buy the Daimler engines built by his company, Levassor proposed a crucial meeting at Valentigney, the Peugeot headquarters just a few kilometers from the city of Montbeliard, between him, Peugeot and Daimler. Daimler shipped his first car "Americaine" over by rail to demonstrate his engine's possibilities in a vehicle. Despite Peugeot's recent commitment to the Serpollet steam system, he also grew interested in the internal combustion arrangement, apparently enough to encourage Daimler to go ahead and build better demonstration car, and to convince Levassor to make more Daimler engines.
Despite of some doubts about this historical event, we know very well that something decisive occurred between Levassor, Daimler and Peugeot in the end of 1888. First of all, there was a contract dated February 5th, 1889, between Gottlieb Daimler and his Paris business agent Mme Sarazin. The scan of this document was published in the book "Ainsi naquit l'Automobile", Jacques Ickx, 1961. The widow agreed to pay Daimler 12% royalty would work out to 144 francs for each engine. The sale of thirty-five engines in a year would allow Mme Sarazin to earn enough in royalties as the arrangement with Panhard & Levassor assigned her 20% of the selling price of each engine, thus leaving her a net profit of 8%. Without strong assurances of sales of several dozen engines annually in the near future, she would hardly have agreed to pay the 5000-francs minimum to Daimler."
This assurance could had been received from the Peugeot agreement to buy these engines from Panhard & Levassor. However, this document appears to be a private agreement. A more official contract would be signed on the following November 1st, the latter date being almost always quoted by the various authors who have written on the subject..
There was more important evidence of this crucial meeting at Valentigney. Daimler's car did not impress Peugeot because it was too heavy even to climb ramps exceeding 3% slope. After that, Daimler promised to create a two-seat quadricycle, shorter and lighter than the "Americaine" model. Maybach took this assignment in hand and in a few months the working plans of this car (quadricycle) was sent to Peugeot and Levassor. Daimler did not have any intention of building this type of car in the future. Apparently, it was built on purpose to help Peugeot build his own vehicles with Daimler's engine inside. Moreover, we know that Peugeot's first cars were similar to the Maybach design.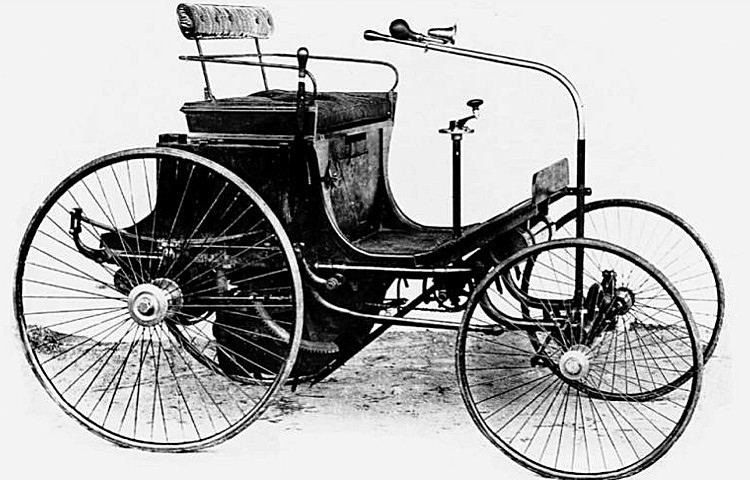 During next seven years, Peugeot and Levassor will be close partners and rivals at same time. Until 1895 year, all Peugeot cars worked on Daimler engines built by Panhard & Levassor.
In March 1890 Panhard & Levassor delivered the first two Daimler engines to Peugeot at Valentigney, and Louis Rigoulot began building a prototype motorized quadricycle. Rigoulot had received his mechanical training at the Ecole des Arts et Metiers at Chalons-sur-Marne and joined Peugeot Freres in 1872. His car resembled the Daimler Stahlrad with the engine under the seat in the rear, but it had better steering suspension. Peugeot shipped this car by rail to the Panhard & Levassor shop in Paris in August 1890 when it was finished, probably for some adjustment to the engine.
In 1891 Peugeot made the first long-distance cross-country journey undertaken by a petrol car: from Beaulieu-Valentigney to Paris, then on to Brest in company with a cycle race, and back by same route.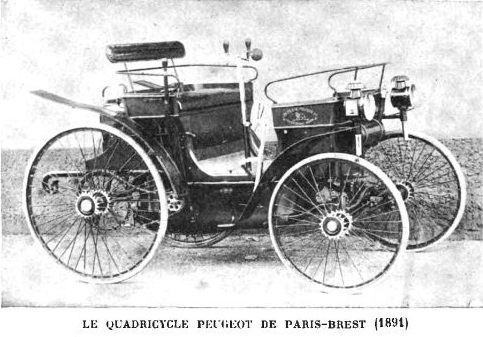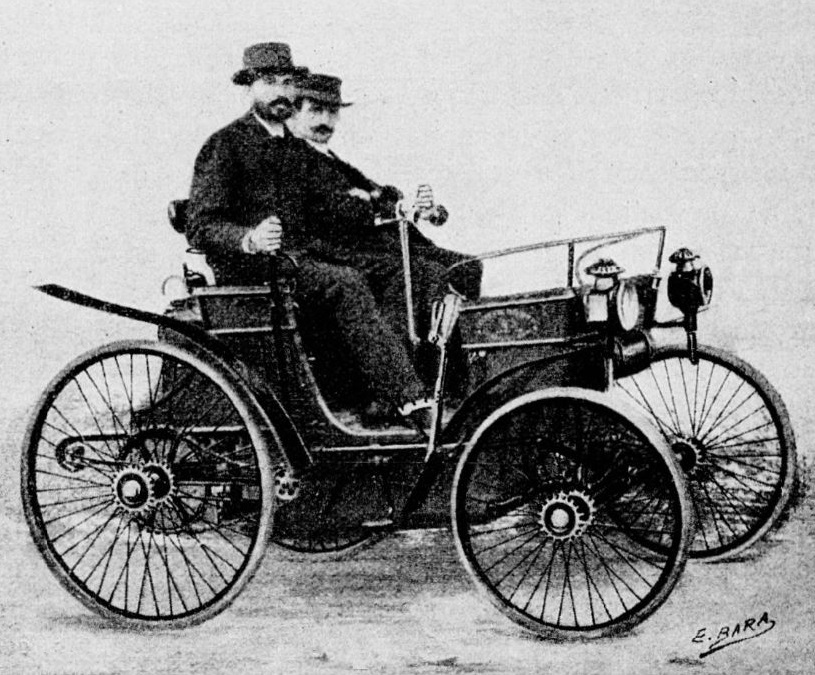 29 cars were built in 1892 and by 1899, 300 were being built. Peugeot became the first car manufacturer to fit rubber tires to a petrol car.