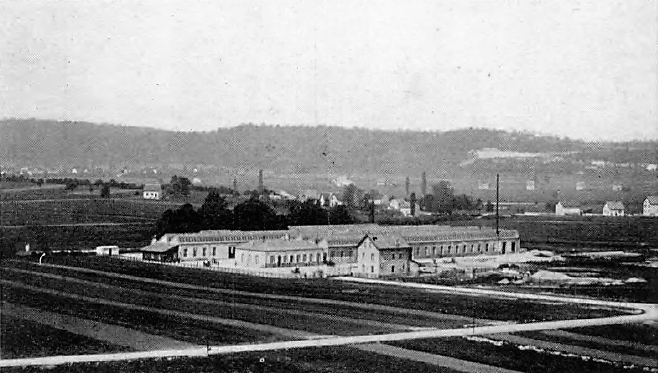 The Autocar 1898:
"Amongst the oldest French motorcar manufacturers is the highly esteemed firm of Peugeot Frères.
So successful has this company proved under the able management of Monsieur Armand Peugeot, that last year magnificent new works were erected at Audincourt, close to Valentigney, in the department of Doubs, and the photographs below will give some slight idea of their size and importance.
These works were only opened in April last year, but before they were finished they were found to be far too small to cope with the increasing demand for motor carriages on the famous " Peugeot system, and it was decided to double the premises with all possible speed. The new building has only just been completed, and the works now cover an area twice as large as that represented in our first illustration. Under the latest financial arrangements of this extensive enterprise, a new company- the Société Anonyme des Automobiles " Peugeot " has recently been formed with a capital of 100,000 pound. This has been fully subscribed privately. Monsieur Armand Peugeot is chairman of the Board of Directors, and the living spirit of the concern, mechanically and financially.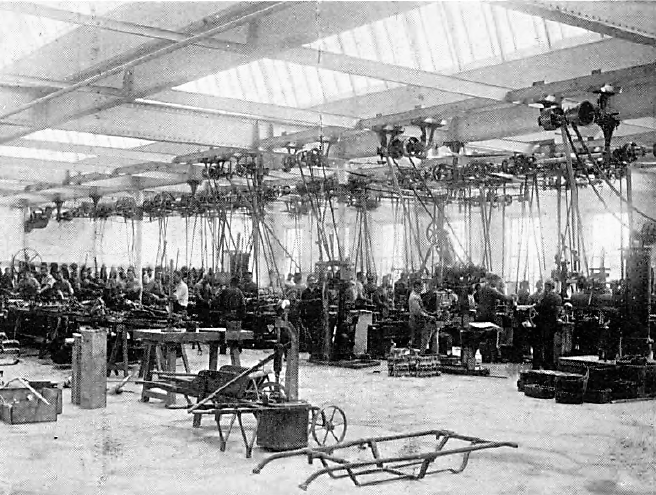 There are at present about four hundred workmen at the works. Others are being engaged daily, being urgently needed, although a certain amount of difficulty has to be contended with owing to the necessity for building houses in which the men can reside. A cité ouvrière-a batch of small residences has been built adjacent to the works, where there are at present about fifty families, but this is absolutely insufficient, and in a year or more quite a little village will surround the " Peugeot " motor-car works, especially as everything connected with the manufacture of these carriages, from the rims (for Michelin pneumatic tires), wheels, bodies, and upholstery, to the painting, is done on the premises. About three hundred lathes and automatic machines of every description of American, English, German, and French make are fitted up, and further machinery continues to arrive, so that the factory will be second to none before the 1898 season commences.
A 150 horse-power engine drives the shafting throughout the works. The resources are totally inadequate to the demand, so that it will be impossible to supply any specially made carriage, even if ordered now, until from twelve to fifteen months hence. Orders are taken on an average of three to four per day, whereas the present capabilities of the Peugeot output is limited to one carriage a day. It is hoped to increase this to two in the course of a few months ; then, at the end of the present year, to three per day.
One great difficulty with Peugeot, as with all other motor-car manufacturers, is the fact that so many customers require either specially-designed carriages or some important deviation from the catalogued designs. (This, by the way, was exactly the same with cycles in the early eighties.)
Monsieur Armand Peugeot experienced this great drawback in the cycle industry, before he practically "divorced" himself from the making of "steel seeds" to throw his future into the fortunes of the automobile, leaving his brothers to govern the successful careers of the cycle and ironmongery factories, which, it is necessary to mention, are entirely independent from the motor-car works. He has " nipped the embêtement in the bud" by creating standard patterns from which his firm will in no way deviate except under special circumstances. They have been extremely busy although comparatively very little has been heard of them in the outer motor world making between two hundred to three hundred small carriages and voiturettes for two places with a three horsepower motor. It is proposed to place them on the market in the early spring, when it is expected that at least two hundred will be made and finished ready for instant delivery. They will come at a moment when everybody requiring a motor car will be only too pleased to decide on a " Peugeot voiturette. " Persons wishing to indulge particular fads and fancies will have to wait patiently from twelve to eighteen months until the six to twelve horse-power motor cars are turned out in quantities.
Monsieur Armand Peugeot and his firm have undoubtedly followed an exceedingly well-planned business scheme. They will not accept orders from agents for these voiturettes at the present time, because they do not wish to be bought up by enterprising agents who would order on trade terms and sell in the height of the season at perhaps twenty-five percent higher than the catalogue price. The Peugeot people will supply direct to their customers at retail prices, so that all will obtain satisfaction at a reasonable price without having to pay expensive prices to private speculators or agents. The demand, however, even in the winter months, exceeds the output by one half, and this state of things will undoubtedly continue for several years, as it is an absolute impossibility to establish works and turn out motor cars under eighteen months to two years.
It must be considered that plant and machinery have to be laid down, and drawings, patterns, material, competent workmen and suitable tools procured, not to mention thousands of other difficulties that cannot be foreseen. The Peugeot works, for instance, were in the height of their success when they were fitting their carriages with the celebrated Daimler motor, which at that time was made for this firm by Panhard and Levassor. For obvious reasons Peugeot probably considered they would be less in the hands of comparative rivals if they possessed their own particular motor. Experiments were accordingly commenced with this end in view. Notwithstanding that the construction of motors is considered by some persons to be mere mechanical child's play, yet when they put the ideas into practice in the form of piston and cylinder which they try to fit into a carriage, chaos ensues, and the child's play suddenly transforms itself into a Chinese puzzle.
It is easy enough for a draughtsman to design a motor lying beautifully in the exact spot for doing its expected work, but when fitted together the motor won't work Nothing under the sun is more difficult than to successfully fit a petroleum motor in a carriage or vehicle of any description, and fortunes have been eaten up by enterprising mechanics and engineers in the attempt. This is where practical patented motors will find a ready field, when once the market has opened up to this new industry.
The Peugeot firm, after many months of such experimental work, have at last got their own motor, which only differs from the Daimler by being horizontal instead of vertical. Besides their extensive works at Audincourt they have a very fine depôt and warehouse in Paris at 83, Boulevard Gouvion, St. Cyr, where they show a number of new carriages on the first floor, which is reached by a lift, the ground floor being used to stable private customers' automobiles. A workshop and all the necessary conveniences are also comprised in the premises.
Monsieur Doriot is the firm's representative, and this gentleman is a celebrated "driver" of all their winning carriages."