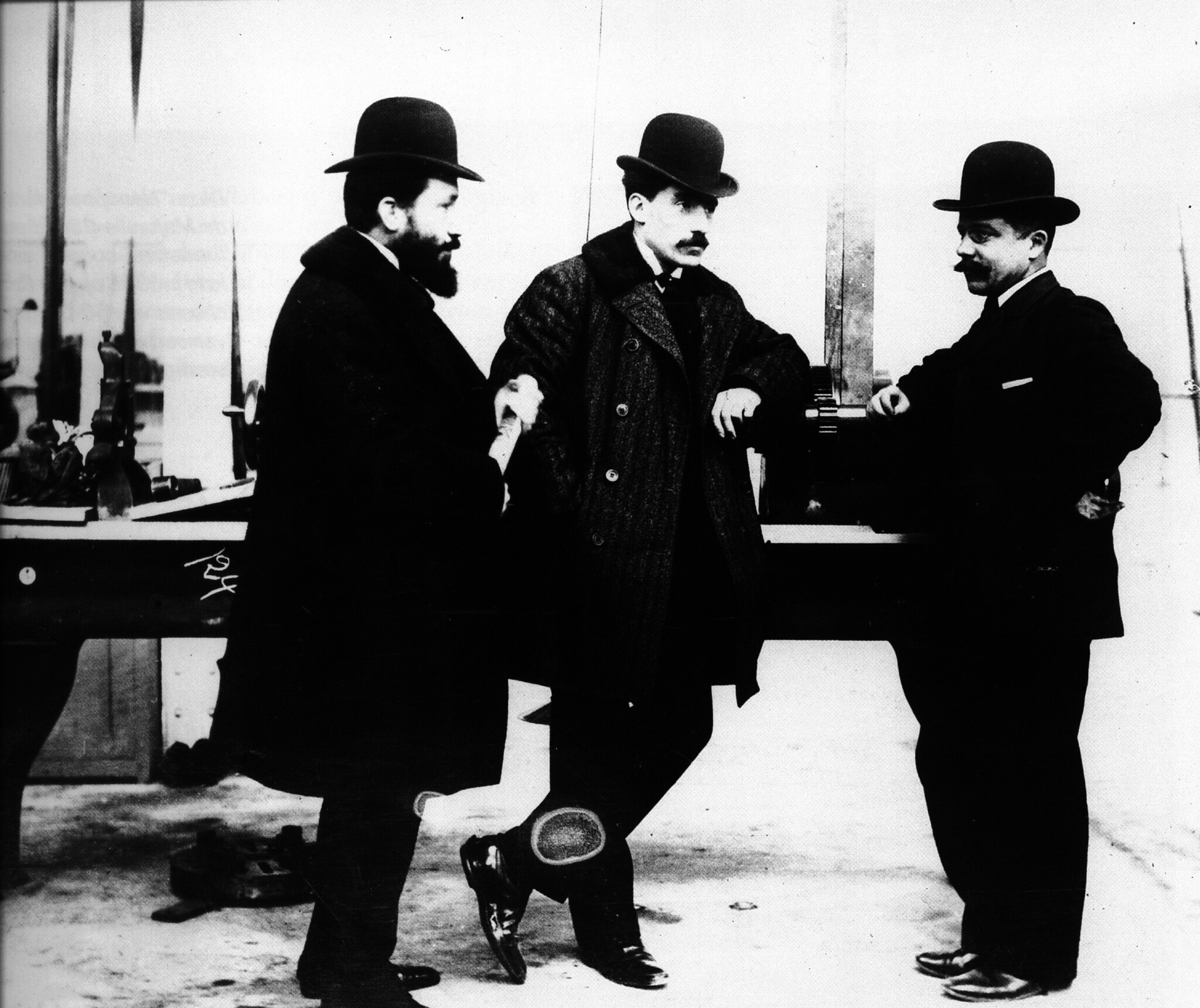 Renault brothers: Marcel, Louis, and Fernand
The Renault company was founded in 1899 as Société Renault Frères by Louis Renault and his brothers Marcel and Fernand.
James Laux ("In the first gear", 1876) wrote:
"Of the many French automobile makers who began operations in 1898, one who started on the smallest scale was running the industry's largest firm a decade later. This was Louis Renault, whose story has several unique aspects. Formed by a young man of 21 years, the Renault company did not grow out of an established metalworking enterprise, and its animator had no formal engineering training.
The closest parallel in the French automobile industry to Henry Ford, Louis Renault was born in 1877, the youngest of five children of Alfred and Louise Renault. 2 His father owned a shop in Paris selling textiles, as well as a button and clothing factory. He did well, for the family also owned property in Billancourt, at this time a semi-rural suburban area west of Paris, and in the Loire valley, Alfred Renault's home country. Young Louis never was much of a student. Somehow he got through the Lycée Condorcet, but all schools were prisons for him, all workshops paradise. His youthful mania for mechanical contrivances, especially steam engines and electrical devices, was indulged by his well-to-do family and he had his own workshop on the property in his Billancourt. When he was 12 he saw the Serpollet and de Dion steam tricycles, and perhaps others, at the Exposition of 1889. Later, he sometimes visited Serpollet on the rue des Cloys in Montmartre and is reported to have applied for work in the De Dion-Bouton shops but the Comte sent him away, saying he had no need of amateurs. 1 Unattractive in appearance, this young man was unsociable and even boorish in his manners. He found it difficult and uncomfortable to speak to groups of people. He would either let these handicaps master him or rise above them by achieving some kind of independence and power.
In 1896 a relative introduced Louis to M. Louis Delaunay-Belleville, owner of a large and successful boiler making concern in Saint Denis, a firm that later on entered the automobile business. Louis won a position as a designer for this company and renounced any idea he had of going to the Ecole Central des Arts et Manufactures. While with Delaunay-Belleville he applied for his first patent, a steam generator, and sold it to his employer. Renault left to do his military service in 1897-8.
He returned from the army to Paris as it was in the midst of the 1898 automobile boom. He now owned a De Dion-Bouton tricycle and desired to do something with it. His father had died several years earlier, but Louis convinced his older brothers Fernand and Marcel to each put 30,000 francs capital into an automobile firm, Renault Frères; Louis had no money at this point. A ledger in the Renault Archives indicates that the partnership began operations on 1 October 1898, although its legal organization dates from the following February. Two-thirds of the initial 60,000 francs capital went to provide the shop on the family property in Billancourt with a steam engine, six machine tools (five of these were of United States manufacture), and other equipment. Louis worked to adapt the 1,75 HP De Dion-Bouton tricycle engine to a small car. To do this he had to transmit the relatively low power as efficiently as possible. He used ball bearings throughout but his master stroke was the direct drive mechanism which in the highest gear coupled the engine's crankshaft directly to the drive shaft and through a universal joint to the differential and live rear axle.
By the end of 1898 his first car was finished. At a New Year's Eve party the brothers showed it off to friends and received some tentative orders. Encouraged by this interest, Louis patented his direct drive is system and in February 1899 the partnership was legally constituted.
He had begun to build a labor force too. Edouard Richet first appeared on the payroll in January 1899, and Charles Serre in the following month. Both became long-time associates of Renault. Legend has it that Louis Renault first met Richet when they both took a worker's qualification test at the Ecole Diderot, although that school's records do not show this. Serre he found at the Durand gear-cutting shop in Paris.
On 14 March 1899, Renault Frères received its first down-payments for cars, 1,000 francs each from Edouard and Georges Bartaumieux.
Four more orders came in during that month and deliveries began in July 1899. These cars were sold at prices between 3,000 and 3,500 francs, somewhat less than other voiturettes of comparable performance. For the month of October 1898 the payroll had been 335 francs; by May 1899 it reached 2,857 francs, representing from twelve to eighteen workers. Also in May 189g the company paid the Automobile Club de France a fee of 530 francs for a stand at the Tuileries Automobile Show in June. Here the car drew many of the visitors because of its novel design, light weight (770 lb), and moderate price. Even more impressive were Louis's victories in the Paris-Rambouillet-Parts race in October 1899 and in the Paris-Toulouse-Paris race of 1900. In London already in 1900 Friswell was advertising Renault cars at £220 complete.
Primarily an assembly operation in these early years, Renault Frères expanded operations as fast as it could get components and erect buildings in which to put them together. Engines came from De Dion-Bouton and a few from Aster, tires from Michelle, radiators from Grouvelle et Arquembourg of Paris, gears from Malicet et Blin of Aubervilliers, just north of Paris, steel from Chatillon-Commentry in central France and Caplain-Berger of Paris, and electrical equipment from Ducellier, a venerable lamp-maker of Paris. Already by 1899 the industry had spawned a considerable range of specialist component firms. Marcel Renault soon joined the active management to take some of the load off Louis, who preferred to work in the shop rather than attend to commercial details. The total payroll rose from 178,803 francs in 1900 to 264,169 francs in 1901, while profits paid to the brother-partners in these years were 132,680 and 471,216 francs, respectively. The 1901 profit was 29 per cent of the sales figure of 1,628,144. The company records are not clear on this point, but a considerable share of these profits must have been reinvested in the enterprise, for the factory buildings multiplied, employment reached 500 in 1902, and more and more components were manufactured there rather than obtained from outside suppliers. From its first delivery of a car in July 1899, Renault Frères had by 1901 become about the eighth largest firm in the industry, on the formula of a small, cheap, and reliable car.
Its success should not be measured only by its sales and profits, but by its imitators, for Louis Renault's transmission system was eagerly copied for small cars. The chain drive remained standard at this time for larger and more powerful machines until stronger steel could be supplied to resist the greater strains."