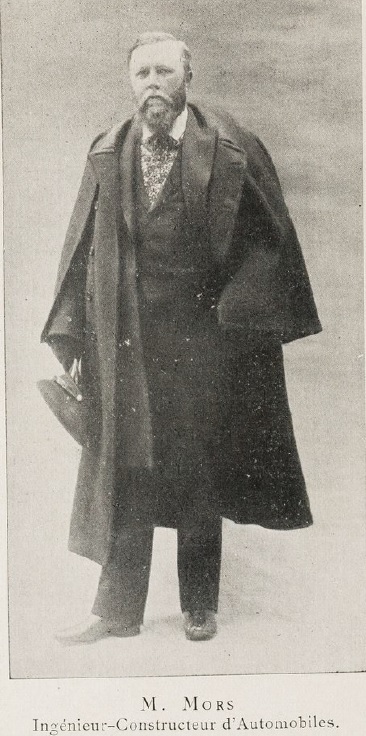 James Laux wrote:
"Among other Paris firms that entered the industry at an early date, the Mors company came to it from the electrical equipment trade. Mors had a curious origin. It had been started in 1851 by one Mirand to manufacture artificial flowers with wire stems. His machine to wrap paper around these wires was the key development, for he soon adapted it to wrap insulation around electrical doorbell wires, and so the company entered electrical manufacturing. In 1874 Louis Mors acquired the firm, which now had interests in electrical equipment for railway signaling. Mors's two sons, Louis and Emile, took over the enterprise in 1880. Both had graduated from the Ecole Centrale des Arts et Manufactures.
In 1886 the brothers hired a 22-year-old draughtsman, Henri Brasier, away from the Orléans railway company. From a small town on the border between Normandy and Ile-de-France, Brasier was another alumnus of the Ecole des Arts et Métiers at Chalons-sur-Marne. One of his first tasks was to construct a steam tricycle for a client of the Mors company. It used oil for fuel and although it seemed to operate well enough, Mors made no additional powered tricycles after this 1887 attempt.
In September 1892 Louis Mors bought an early Panhard & Levassor car. It functioned very well, for he reported a year later that he had driven it almost 5,000 miles without trouble. Then in 1895 after the Paris-Bordeaux-Paris race, the brothers decided to take their chances in the automobile business. Brasier, their chief designer, in 1896 first produced a car similar to the Benz, locating the engine in the rear with belt and pulley transmission. He introduced a new model in 1897 with many innovations. The engine was a V4 with electric ignition supplied by a battery which in turn was charged by a beIt-driven generator.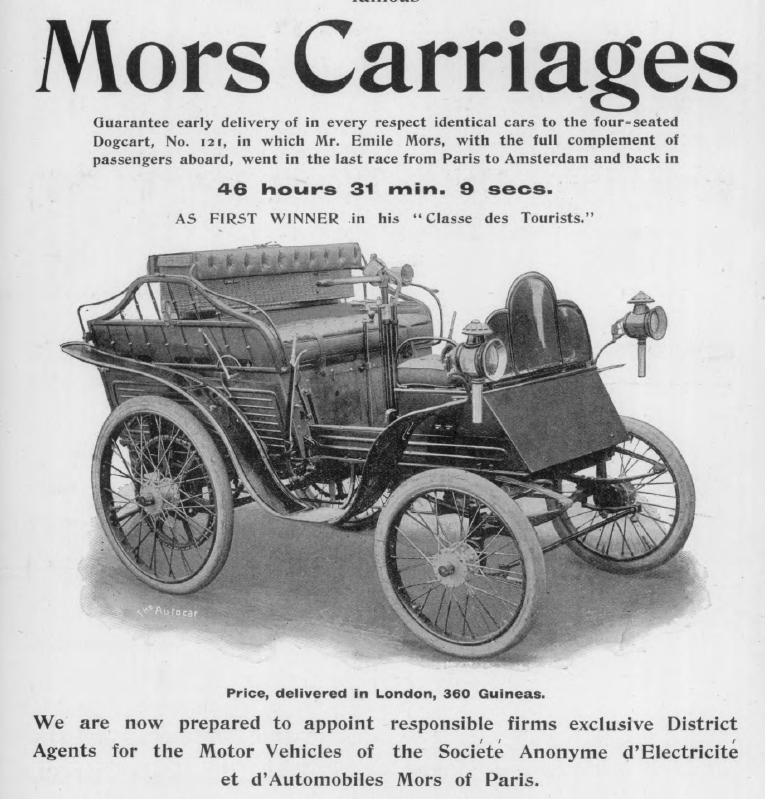 In January 1898 the Mors firm incorporated as the Société de l'Électricité et des Automobiles Mors. Of the 2 million francs capital, one-quarter went to Emile Mors, who was guaranteed an additional 10 per cent of the profits for eight years. The first board of directors included Paul Haarbleicher and Samuel Guillelmon, who were to remain important figures in the industry. The 1,5 million francs in new capital were subscribed privately without any difficulty, for Paris had now entered a feverish automobile boom. Emile Mors claimed that his factory, on the rue du Théâtre in the Grenelle district of Paris, produced ten cars per month early in 1898, with 200 workers. The effective managers of the automobile side of the firm were Georges Huillier, a lawyer and the son of a Parisian notary, and Henri Brasier. The latter led the company to several major racing successes in the next few years."