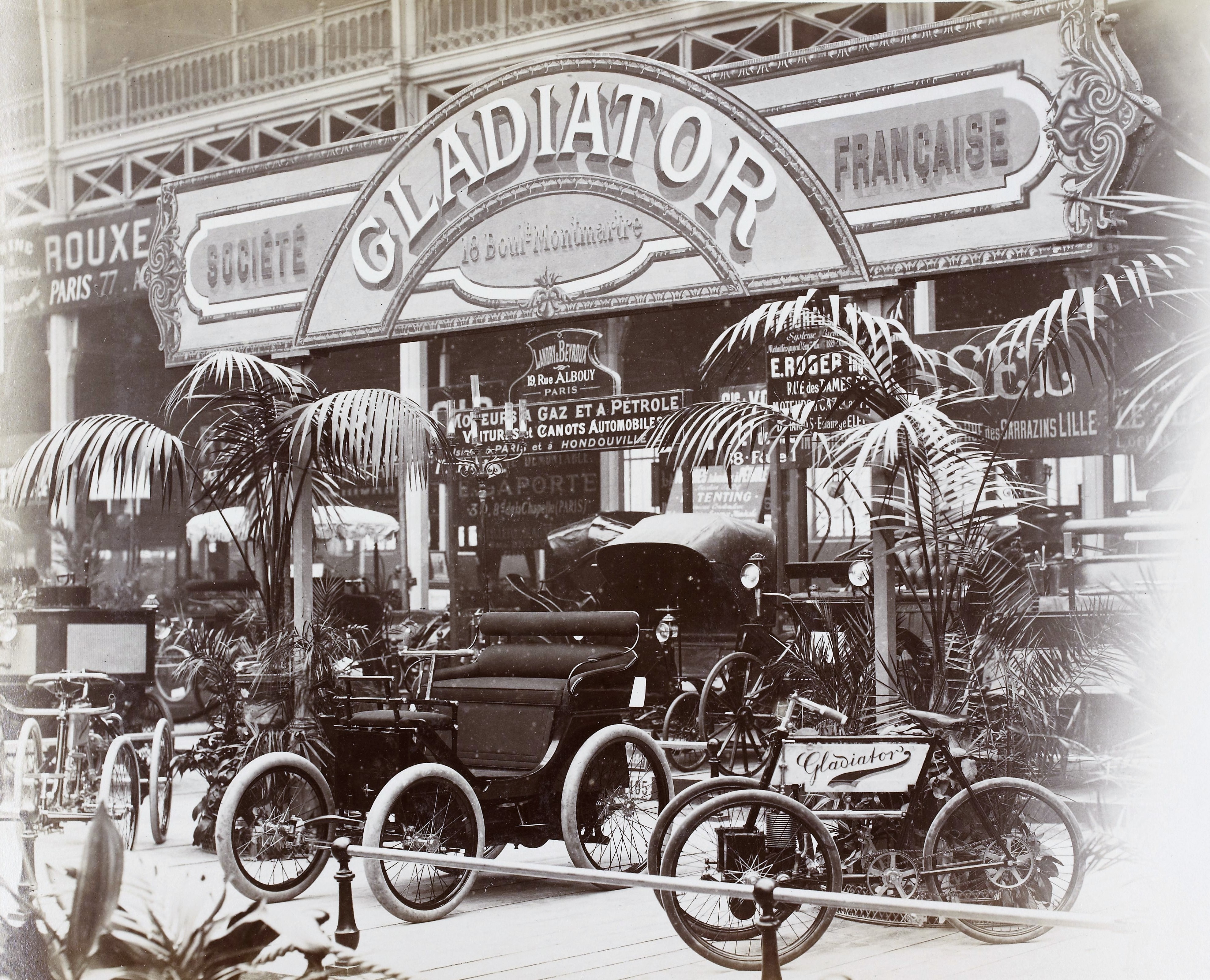 Salon du cycle, Paris, 1896
The original Gladiator company was founded by Aucoc and Darracq in 1891 to make cycles.
In 1896 Adolphe Clément, who held the extremely profitable manufacturing rights for Dunlop tires in France, joined with a syndicate led by Dunlop's founder Harvey Du Cros to buy out the Gladiator Cycle Company and they merged it into a major bicycle manufacturing conglomerate of Clément, Gladiator & Humber & Co Limited. The range of cycles was expanded with tricycles and quadricycles.
At first, Darracq and Clement joined the board of the new company, but Darracq soon departed. Darracq used his share of the proceeds to found his own company making cars.
James Laux ("In the first gear", 1976) wrote, "Adolphe Clement stayed with Clément, Gladiator & Humber & Co Limited for several years. This company had to be reorganized in April 1901 under new name, Societe Francaise des Cycles Clement. Production was concentrated at Darracq's old works in Pre-Saint-Gervais. While continuing to make bicycles (and motorcycles from 1896), the firmc also went into automobiles, using the trade names of Clement and Gladiator. These cars sometimes employed De Dion-Bouton engines but more commonly those made by Astor company, a petrol engine concern."
In 1902 Charles Chetwynd-Talbot formed Clément-Talbot Ltd with Adolphe Clément as a significant shareholder. Clément formed Clément-Bayard in France. The existing business was renamed Société Francaise des Cycles Clément et Gladiateur Ltd.