ABBOT JULES GAVOIS AND HIS "ANTOINETTE"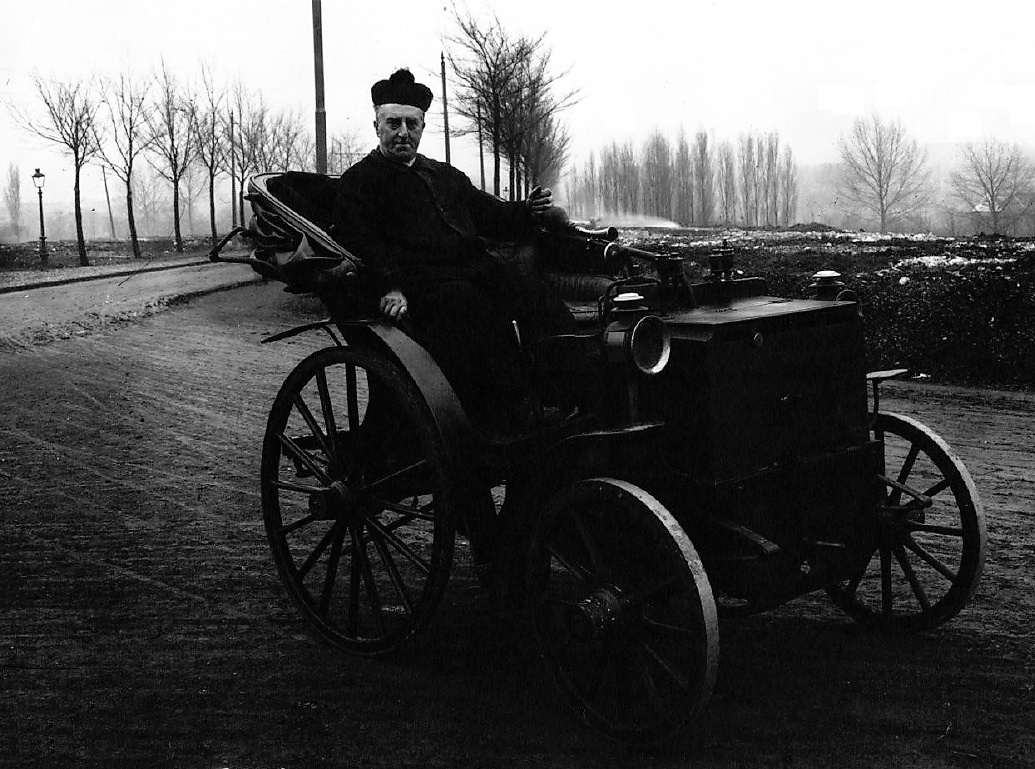 Jules Gavois (1863 – 1946), parish priest of Rainneville in the Somme purchased a Panhard & Levassor car in 1895 (made in 1891, engine N77) from Emmanuel Buxtorf a manufacturer at Jacquart a Troyes, in Champagne, who had been the owner of it since December, 1891.
Here is the certificate the certificate issued by Director of Panhard & Levassor at the Abbe Gavois and give the exact date on which the car was manufactured.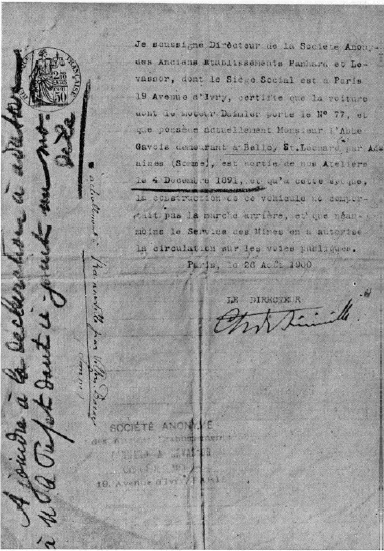 "I am the Director of the Anonymous Company of the Anciens Etablissements Panhard and Levassor, Social Headquarters is at Paris 19 Avenue d'Ivry, certify that the car whose Daimler engine carries the N77 belongs to  abbot Gavois residing in Belloy St. Leonard by Amiens (Somme). The car came out of our Workshops on December 4, 1891. At that time, the construction of this vehicle did not involve the reverse, and that nevertheless Department of Transportation ("Le Service des Mines") has authorized the circulation on public roads.
Paris, August 28, 1900."
In the "Motor" magazine, 1911, Jules Gavois told us about his car experience.
"I am quite sure you will wonder: how the idea ever sprang up in the brains of a modest chaplain of those days to long for the possession of a horseless carriage. I must confess it was because I felt the impulse to promote all inventions touching mechanical locomotion. After all, there was also a little atavism in the case. My grandfather made himself famous as a manufacturer of looms and of a certain draw-bench, patented in Paris in 1867. Therefore, led by a certain calling in the same direction as my ancestors, I felt a decided inclination for the motor car, whose existence I had predicted at the time of the first appearance of the gas motor.
I visited the first exhibition of motor cars organized by Le Petit Journal, and I came away highly enthusiastic. I don't think you will understand fully the scope of my enthusiasm if I don't tell you that in those days I was a priest of a hamlet in the Department de la Somme, a place deprived of all means of outside communication.
Between my sanguine expectations and their realization there was a big gap. One had to pay three to our thousand francs in order to get possession of one of the plainest cars on exhibition, and that without any guarantee or proof they were worth the money. This being the case, I had to depend more on circumstances than on the capacity of my purse. In 1894 the firm of Panhard discovered for me a suitable carriage and opened relations for me with Mr. Buxtorff, who offered me his car for 3,000 francs, the same price he had paid for it. His offer, however, included all improvements he had made and also a top or sunshade and an extra seat. It occurred to me that this price was too high, and even when Mr. Buxtorff came down to 2,800 francs I believed it was too much for a carriage with only two seats and a double-cylinder, V-shaped motor of 2 horsepower.
A year passed by without any further negotiations. Anxious as I was to purchase the motor car at a reasonable price, I entrusted my vexation to St. Anthony of Padus, patron of the anxious of all kinds. I should like to bet, you did not expect to hear of him in connection with this matter. Be that as it may, he did play a part in it. Just listen! At the end of a nine days' worship in his honor, exactly a year after the break in our negotiations, there came an unexpected letter from Mr. Buxtorff, who offered me his carriage for 1,800 francs. Offered at such a moderate price at such a peculiar time, I decided to accept the proposal without hesitating, as I considered it to be a providential indication.
My first adventure as an automobilist coincided (as often is the case) with my first attempt to operate it. Inexperienced as I was, I had cherished the idea to drive my car over a distance of 80 miles from Troyes to Amiens.
Later on I understood how much reason I had at that time to follow the advice of Mr. Buxtorff: to make the first part of my trip on the platform of a freight car, going in this way by railroad to Airlines, a few miles from Belloy, my parish. Starting from Airaines, there was still room enough for an odyssey. Nevertheless, I disregarded is advice. I took place in my carriage amidst a curious and jeering crowd, inclined to amuse themselves at somebody's expense. But, as a matter of fact, I could not make my automobile budge.
The end of it was that my Panhard made its entry into the parsonage of Belloy St. Leonard towed by a horse. Just think of it and me long since contesting the right to the qualification of this quadruped as the noblest conquest of man. I leave it to you to decide whether they wagged their tongues or not. Before speaking of me as the owner of a prehistoric automobile, people spoke of me as a daredevil and a rushing, stuck on a dangerous, chimerical carriage.
After my first experience I came to a point here I decided to let them talk; but in order to avoid other mishaps with this rather complicated machinery at a time when there was no specialist in sight, I started with the assistance of my father, to take the whole machinery apart piecemeal. Even now, I remember the surprise of some of my parishioners at seeing the great many different parts scattered all over the workshop. At last, we overcame our difficulties, and a few days later, I undertook the trip to Airlines in company of one of my colleagues. Everything went smooth and with the exception of a couple of noisy explosions, caused by faulty working of the sparker, we arrived safely at our place of destination.
Alas, I cannot say the same of our return trip. I had omitted to shift the governor of the exhaust valve of one of the cylinders, a necessity with the type of motor, in order to avoid choking. Therefore, with only one cylinder working, I could not make the carriage go. We decided not to tinker and to spend the night at Airaines. We went to bed, and during the night, I suddenly thought of my omission. The next morning I got up at daybreak, said my prayers, returned to my motor, put the exhaust mechanism in the proper position and went on my way very happy and relieved.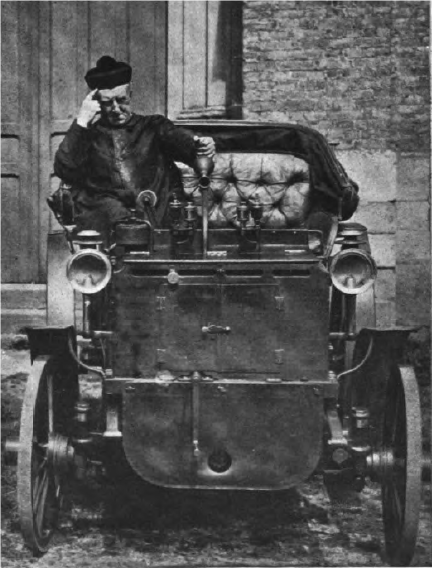 In all these years, I have only Renéwed the Brampton driving chain five times and the steel tires but twice. The rest of the car's organs remain intact, and, though old, their vigorous strength holds a promise of another twenty years of activity-perhaps, please God, for a golden jubilee. The tie between my carriage and myself is now stronger than ever before: all hours spent in or around it loom up at once in my memory and impress me as if they all took place within a single year.
I don't know whether this dean among the motor cars, erect as a lady of standing who never gets old, ever will receive all the respect she ought to inspire; however, she does not grieve when her grand-daughters, forgetful of all dangers, snakes speed by. In the meantime, my car goes on quietly teaching simplicity and the old evangelical modesty to the world trying to save souls, walkthrough while saving the body; shaking its occupants, on account of its s eel tires, just enough to prevent them from falling asleep, intoxicated by a deceiving swiftness; and keeping them far from waste of money and dangerous jumps, to which perils one is permanently exposed when travelling on pneumatics. "
"In June 1921 abbot Gavois made a triumphal entry through the gates of the capital, paused for an instant in front of the monument erected to the memory of Emile Levassor, the builder of the car, then rolled down the Avenue de la Grande Armee and the aristocratic Champs-Elysées to the showrooms of the Panhard-Levassor Company, where the car was placed on exhibition prior to being offered for sale by auction." – "Automotive Industries", July 1921.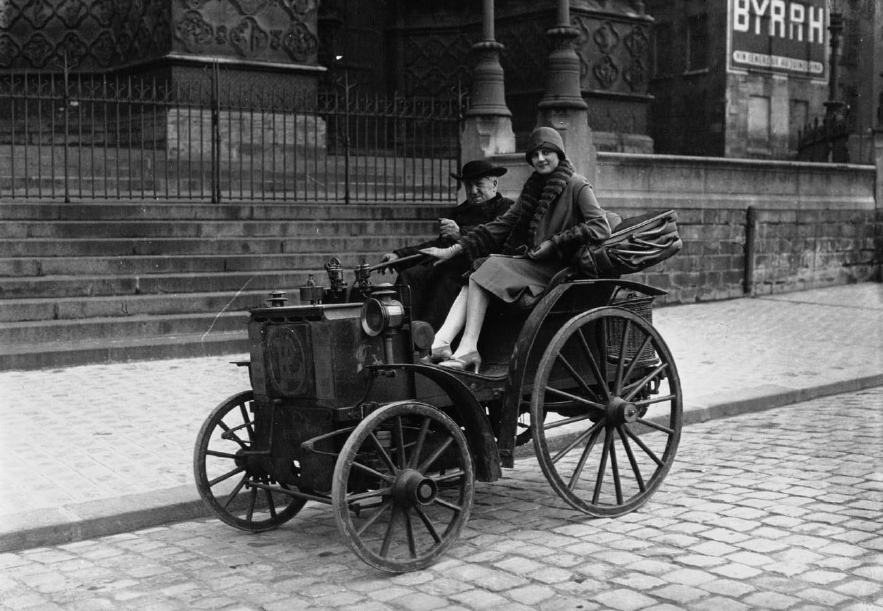 Abbot Gavois traveled more than 140,000 km in almost thirty-four years, not hesitating in 1926 to make the trip to Allery in the Bay of the Somme, Paris, 127 km in the day!
In 1931, the abbot donated his car to the automobile Club of Picardy and Aisne, in Amiens. Antoinette  remained there for nearly seventy years. In 2013, after taking part in the festivities organized for Jean Panhard's 100th birthday (who remembered the abbot very well), the car was definitely repatriated to the Cité de l'Automobile in Mulhouse.
"Antoinette" the car of Abbot Gavois, 1891 Cité de l'Automobile in Mulhouse, France (courtesy of Michael Jörgens) :