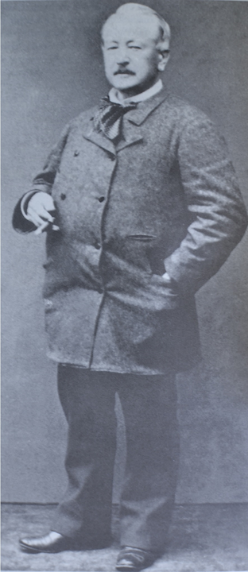 Jean-Louis Périn was born in Rethel in 1816. The self-taught son of labourers, Périn decided to go to Paris where he set up a studio at the back of the courtyard at 97 Faubourg Saint-Antoine, in the heart of the district which was traditionally home to carpenters and cabinet makers. Corlin described Jean-Louis Périn as a man of medium height, with a broad forehead, a wrinkled complexion and hands obviously accustomed to handling a plane or operating a mechanical saw. He was typical of the French craftsmen of his day who received just enough technical knowledge which was then developed and perfected in time through practice and experience.
Périn had always been interested in woodworking and from making chairs he quickly became a specialist in veneer and wood carving. As his reputation grew, he met an industrialist by the name of Pauwells. With his support, the studio became a modest workshop with four companions, including turner-fitter Henry Mahaut, who served as team leader, and three carpenters.
After Pauwels' death (in 1846 or 1847) he took over the business and chose a dramatically new path for his small company.
In 1846, a patent was granted to Anne-Pauline Crepin, a brilliant young woman who invented a new method of wood cutting using a blade guide. Strange, but true, that invention by a French girl started the whole technology history of this huge future industrial company. Miss Crepin never worked with Périn herself.
 "The establishment of Mr. Périn, located in the Faubourg Saint-Antoine, has rendered for many years very great services to the furniture industry. Périn put into practice Miss Crepin's ideas."
The blade guides were simply pieces of wood with a slot for the passage of the saw blade.
In 1853 Périn made some improvements to the design of the blade guide and a new patent under his name was issued. "This application was of such importance that it was sufficient for M. Périn to improve certain details of construction, to obtain results so advantageous and so well recognized today (1881). Reciprocating saws could be used in more ways, not only for the cutting and debinding of pieces of various shapes used in carpentry and cabinet making, but also for cutting planks and even logs."
Périn found a practical way of using thin, narrow blades. He perfected the welding process, but also, most importantly, he applied the "guides" to the every spot where the saw was operating. In 1855, Périn's company had a booth in the Wood Industries section, at the "Universal Exhibition of Industry" in Paris. He presented an improved band saw with a new kind of blade-guide which aroused the curiosity and interest of all well-informed visitors, especially the British General Tulloch. He installed similar saws for the Woolwich arsenal, which were put into service in the following years.
Next to the new machine, there were delicate carvings, some of which were the very work of Jean-Louis' wife, Madame Périn, daughter of his friend and colleague, Henry.  At this exhibition Périn received his first recognition in the form of a silver medal.
Later that year, Périn was awarded a Gold Medal by «The Société d'encouragement pour l'industrie nationale" (Society for Encouraging National Industry).
In 1862, he received international recognition at "The International Exhibition" in England (Great London Exposition).
Périn's business continued to develop in the following years. He expanded his workshop and the production of equipment increased at the same rate. As a result, the business grew from eight mechanics in 1850 to sixty workers by 1867. At the same time, the machine shop built most of the machine tools necessary for the extension of the plant, which was beginning to become a factory. By 1865, the workshop space on the Faubourg Saint-Antoine was no longer sufficient. Because it was impossible to expand any more at that location Périn had to build an annex at 26 rue de Charonne. The woodworking machinery industry that resulted from Périn's drive and creativity was the egg from which the Panhard & Levassor company eventually hatched. This marked the beginning of one of the most renowned French institutions of mechanical engineering whose reputation became world-renowned in the field of machinery to work with wood, wood pulp, iron, and eventually, motor vehicles.
Gotlieb Daimler, a young engineering graduate from the Polytechnic in Stuttgart in 1859, went to Paris after a short stay at the Graffenstaden arms factory in Alsace, and worked for several months in 1860 at Périn's company.
Said Daimler, "Périn has new ideas, and in particular, he can saw hard metals thanks to his band saw". Daimler was a perfectionist, and it was from Périn that he learned the importance of high-quality steels for accurate and sustainable manufacturing. Although he had little time with Périn, he did not forget anything about what he had seen and learned."
Could young Gottlieb Daimler have imagined that in 30 years his name would forever be associated with the outstanding success of the company Panhard & Levassor (former Périn's company) in the automobile industry? Daimler's engines, built by this company would bring worldwide fame to their designer.
Looking back, we can say that throughout the history of the company, founded by Périn, there were many fateful coincidences and intertwining of destinies. The internship of the young Daimler in this company was one of them.