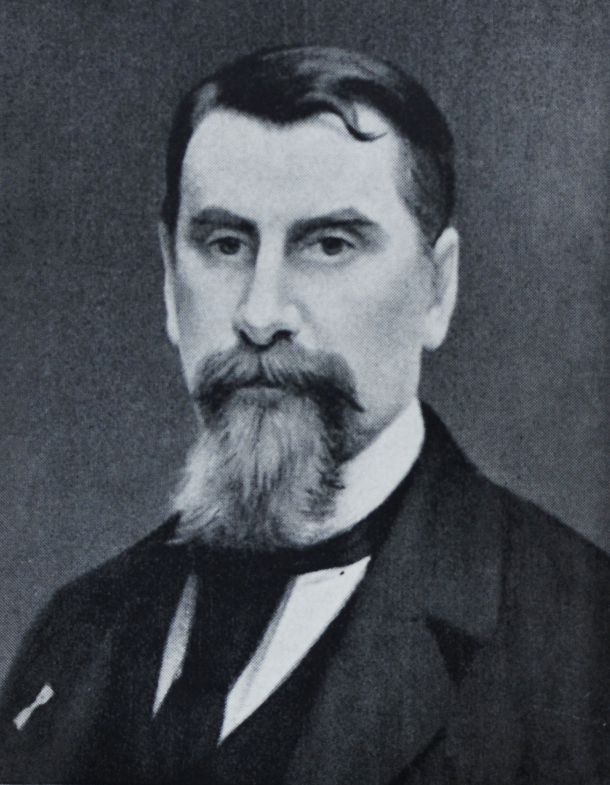 Emile Levassor was born on January 21, 1843 in Marolles-en-Hurepoix where his father was a farmer. His parents put him in a boarding house in Paris at College Chaptal, 29 rue Blanche, at the age of twelve. He remained there from 1855 to 1860.
In 1861, he went to the Ecole Centrale, the same year as René Panhard who he would befriend. He received a modest ranking (173rd out of 189) but would have a brilliant career. He chose, like René Panhard, the specialty of "Mechanic". In the second year, he was 33rd out of 141. He graduated from the class of 1864 as 35th out of 139 .
While having just graduated as a mechanical engineer, Emile Levassor wrote to his favorite teacher, Mr. Callon, president of the Cercle des Ingénieurs at the Ecole Centrale: "I would like a situation where there would be a lot of work but where one does not get locked up the whole day ". The John Cockerill Metallurgical Society in Seraing, Belgium hired him in 1864. He entered the "Design Offices of Construction Workshops" at a salary of 2,400 francs per year .
Speaking about his first experience at Cockerill: "I had to make a two-day boat project for Russia. It was short. I have found here empirical formulas and ready-made solutions, but I did not want to accept them. I discussed after consulting my school notebooks. It's a good thing that made me right."
However, Levassor was not happy after two years working at Cockerill. He wrote to his friend: "I do not see in Cockerill any future … Moreover, I am very bored. I think I would do well to look elsewhere … Being far from Paris, would you kindly let me know of the different positions that are available… "
Despite his obvious desire, Emile Levassor could not leave Cockerill as quickly as he would have liked. He was their official representative at the Universal Exhibition of 1867 in Paris and contributed to the promotion of Dubois & François perforators. The following year, Levassor found a job in France in the Durenne shop in Courbevoie. There he was able to pass from the status of employed engineer to that of managing partner. Emile Levassor, eternally worried and dissatisfied, did not want to stay at Durenne where he worked for three years.
Corlin described Levassor as "A curious person, this Levassor, attractive perhaps as much by his faults as by the qualities of an intelligence open to all areas of science. He had a grim face with a steely expression and an obstinate temper. He was not willing to wait or to be contradicted. His personality was strong but with an exceptional uprightness, freezingly cold toward anyone who approached him, even one of his closest associates. He raised stubbornness to the height of a virtue, and yet was timid, always inclined to discouragement and pessimism in whatever directly concerned him. He was deeply sensitive but did his best to hide it."
During the year 1872, René Panhard invited Levassor to come to Périn & Cie. He understood that his company needed to strengthen itself to move forward, but René did not want to assume the responsibility alone. Also, Jean Périn was already 56 years old and preparing for his retirement five years later. Panhard saw Emile Levassor as the best candidate for the job in order to ensure their future.
 On December 3, 1872, they signed a private deed, retroactive to October 1 that detailed their agreement. Périn sold Levassor a quarter of the shares (1/8th of the capital) for 50,000 francs. Panhard added 100 000 francs to the capital, raising it to 500 000 francs. The distribution of assets was now Panhard 300 000 francs (60%), Périn 150 000 francs (30%), Levassor 50 000 francs (10%). Levassor's parents, had significantly contributed to the contribution of their son by giving him a loan of 30 000 francs.
Now the name of the company is Périn, Panhard et Compagnie – Périn, Panhard & Cie.
Orders were pouring in from all sides. The company was going to need more space in order to grow. René Panhard searched for a suitable location on which facilities could be built.  He finally settled on a property located in the outskirts of Paris, on the edge of the new limits of the capital, the birth of the avenue d'Ivry. The company Périn, Panhard & Cie made the acquisition of 19 avenue d'Ivry in April 1873.
While the entrepreneurs set to work putting up the first buildings, the transfer of the workshops began. The move was not without difficulties, especially at the beginning. The staff was split into two groups, one continuing to work in the suburb and on Charonne, the other on site installing the new facilities.
Emile Levassor orchestrated the move. He wanted to watch everything and drive everything, shuttling incessantly between Faubourg Saint-Antoine and d'Ivry. These efforts were quickly crowned with success: after a few months, two modern workshops were already operating. The first workshop, in an existing structure, was quickly made operational, and the second workshop which was built from scratch, looked so beautiful that the workers called it "the Palace". The former housed most of the mass production of woodworking machines, from saws to splitting machines. The chief was Mr. Varlet. The second workshop was intended for mechanical and tooling manufacturing. It was opened and operated for the first three years by Villeminot that Levassor made then move on to the Varlet workshop, then by Godet, who only remained in the position for a few months, and, finally, by Emile Mayade, who was later to become the head of the car assembly workshops, the director par excellence, and Emile Levassor's trusted colleague.
<to be continued>