A letter from Levassor to Daimler dated January 24, 1892 reports that, «In France, the sale of cars is going very well; we have a dozen on order. Many people and even major institutions are paying attention to cars. So, it is necessary to take the lead…»
The production, which is intensifying, now bears on two models: the two-seater already known to the P2C engine of 817 cm3, and a new four-seater, powered by the most powerful P2D of 1025 cm3. The two-seater model can receive a parasol or a small seat at the rear. As for the four-seater, it exists either in the form of "dog-cart" or its form of a wagon. The wheels are made of wood with steel bandages, but they can be equipped with rubber bandages. The crates are not manufactured on Avenue d'Ivry, but by the Paris coachbuilder Belvalette.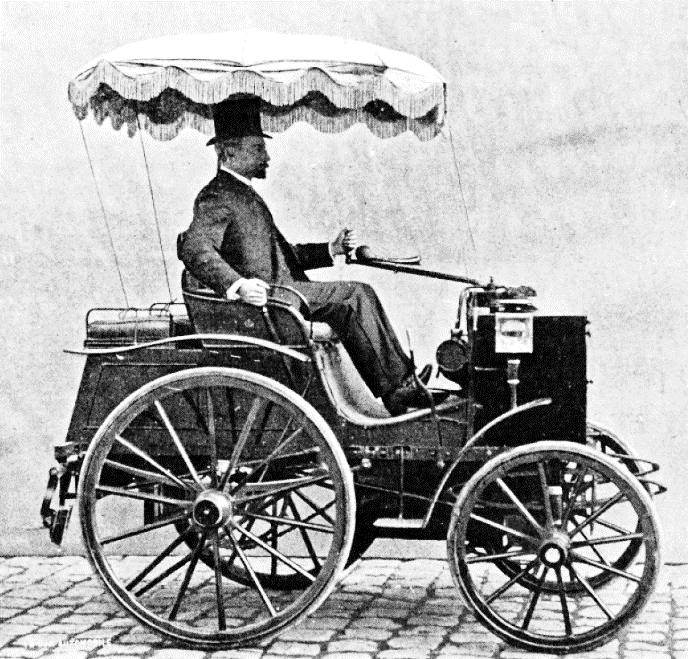 Panhard & Levassor car, bodywork made by Belvalette Brothers
In October 1892 an extended catalog was issued. It offered a single chassis and the choice of four different body styles. The lowest price listed was 4100 francs, but for solid rubber tires than steel ones there was a 400 francs supplement. That year, Panhard & Levassor sold sixteen cars, and thirty-eight in the following one.
Here are some descriptions from this catalog.
 "4-seater cars, "dog-cart", are the most popular; however, if ladies or children often have to sit in the back, it would be advisable to choose the wagon-shaped one, but then, in this case, the trunk that exists in the "dog-cart" to put small luggage would necessarily have to be removed.
2-seater cars sometimes have a small seat in the back for a child or a small groom. The parasol that is put on the 2-seater car, can also be put on the other cars.
Engine. Car is powered by a two-cylinder petrol engine placed at the front; the engine is affordable on all sides, so its lubrication and maintenance are very easy. The engine runs without any smell of smoke.
Direction. A driver directs the car by means of a lever that he holds in his left hand; this direction, because of the combination used, is very soft and gives no fatigue.
Speeds. Car has three speeds: one small, one medium and one large. The high speed is generally set at 17 km/h, but in flat or slightly uneven countries, and especially with two-seater cars, you can walk faster and reach 20 km/h, but these high speeds require you to the driver's attention and are not always advisable.
The low speed is used in climbs and in bad passages, the ramps that can be climbed can reach, on dry road and in good condition.
Wheels. The wheels are wooden with bandages in steel, but they can be also with rubber bandages, the latter give very good results, but they are of a rather high price.
Brakes. There are two, one maneuvering with a pedal, the other with a lever, the latter is used only in large descents or for instant stops.